Indications have emerged that retired military and security chiefs may be roped into the probe of former NSA Sambo Dasuki as security agents have kicked off manhunt of possible accomplices.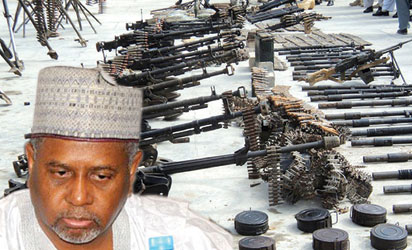 The nation's Security agents have launched a manhunt for former military and security chiefs suspected to have duped the country of billions in phoney arms deals.
Former National Security Adviser (NSA) Col. Sambo Dasuki has been named in the deals and he stated on Wednesday, November 18, that he yesterday that he was ready to defend his action in court after President Muhammadu Buhari ordered his arrest.
Also to be arrested are former Chiefs of Defence Staff and five service chiefs indicted by a panel which examined arms purchases from 2007 to 2015.
The panel has summoned 30 arms contractors, The Nation gathered yesterday night. All the suspects may have their movement restricted to the country, pending further interrogation and arraignment in court.
According to a source, the former NSA is a "security risk" and the nation cannot afford to let him "slip away". All the suspects implicated in the arms deals have been placed under surveillance.
But none was yet to be arrested as at the time of filing this report.
A top source said: "Those accused of mismanaging N644billion include some former Chiefs of Defence Staff, about five service chiefs and some security chiefs.
"They have all been placed under surveillance and some of them may be arrested any moment from now pending their arraignment in court.
"Their names have not been released to avoid any acts that may jeopardise attempts to bring them to justice.
"Immediately they are arrested, we will release their list to the public."
When News Breaks Out, We Break In. (The 2014 Bloggies Finalist)