The Economic And Financial Crimes Commission is set to summon a new group of high profiled Nigerians alleged to be beneficiaries in the controversial $2bn arms deal.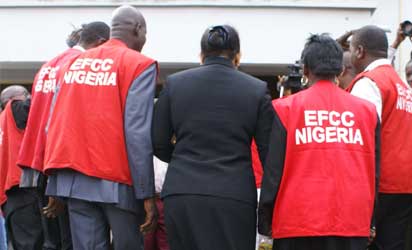 According to sources, some prominent Nigerians whose names have emerged prominently on the list of those who benefited from the $2.1billion arms deal, will soon be invited.
The prominent Nigerians on the list include ex-Board of Trustees (BOT) chairman of the People's Democratic Party (PDP), Chief Tony Anenih, Alhaji Tanko Yakassai, Chief Olu Falae, former Oyo state governor, Rasheed Ladoja and a few others, Leadership reports
A source who craved anonymity, said that the commission is in possession of the names of those who benefited from the deal, adding that the agency will soon invite another set of prominent Nigerians whose names featured prominently on the list of beneficiaries obtained from the Office of the National Security Adviser (ONSA).
The source said: "The commission will soon invite those prominent Nigerians who took part in the sharing of that $2.1 billion arms deal. They will be invited to the commission's headquarters here in Abuja but if they failed to do so, we will have no choice but to bring them."
The source explained that the intention is to recover the money each collected or charge them to court.
He said: "I am happy some of them have admitted of receiving the money but trying to justifying their actions, but that is in the media, they need to state their reasons and I personally believed that the intention is to recover this money and once this is done, there will be no problem. It is where this becomes impossible that the court may be asked to intervene."
When contacted on the matter, spokesman of the commission, Wilson Uwujaren, declined to give details on the issue.
When News Breaks Out, We Break In. (The 2014 Bloggies Finalist)