The Head of State His Excellency Paul BIYA granted audience on Friday 8 April 2016 to Michel SAPIN, the French Minister of Finance and Public Accounts who is in Cameroon to attend the meeting of Finance Ministers of the Franc zone. The audience that lasted over one hour was an occasion for President Paul BIYA and his guest to review cooperation ties between Paris and Yaoundé.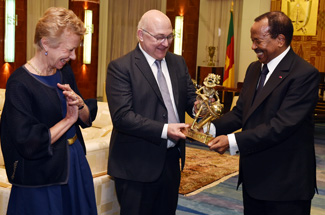 Speaking to the press shortly afterwards, Michel SAPIN praised Cameroon, on behalf of President François HOLLANDE, for the major role played in the fight against terrorism. He also declared that he was bearer of a message of "greater cooperation" between France and Cameroon. This cooperation was evident in the signing of a new debt cancellation contract of 600 million Euros.
Responding to questions on the future of the Franc zone, the French Minister of Finance and Public Accounts said the zone was in Africa, for Africans and that it future depended on the wishes of the African Nations. He said France was a partner to guarantee its convertibility and the decision was purely that of Africans.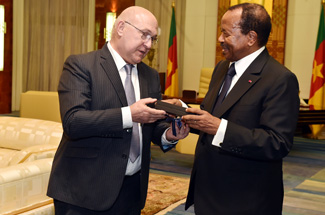 Michel SAPIN was raised by the Head of State to the dignity of Officer of the Order of Valour. There was also an exchange of gifts between the two personalities.
The French Minister was accompanied to Unity Palace by the French Ambassador to Cameroon Christine ROBICHON and the Director General of the French Treasury.
Source: PRC
When News Breaks Out, We Break In. (The 2014 Bloggies Finalist)